What:

All students will learn by the end of class how to interview and photograph an event successfully for the yearbook. The moment: community day at GWHS. Let's go find those stories.

Why:

This is what we do...visually and narratively document each event at GW. Let's do this as a team.

How:

Students will decide who interviews and who photographs. The event is taking place throughout the school where community groups are offering freshmen opportunities to volunteer to their community.

Students will decide what questions to use for interviewing. Write them out:
​

Powered by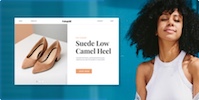 Create your own unique website with customizable templates.