What:

All students will understand how to use InDesign, the program that creates each page in our book, by the end of class.

Why:

InDesign is a program used in major publications and allows users to place photos and text within a format. You need to know how to use this.

How:

Students will learn through an in class demonstration with student leaders how to use InDesign and create a spread about themselves. Yearbook leaders will have stations set up to show how to type, how to import photos, how NOT to move the spread, and change colors.

Mircia: how to change colors, remove strokes, and not to move the spread...Ctrl + Z to back up.
Kaylin: how to type into the boxes...how not to change the size of the font and why
Mariah: How to import photos into the boxes and keep them proportional (Ctrl + D to place, shift to change size on the red outline or shift + alt to shrink/enlarge from center)

Use template (Practice Page) here:​
Powered by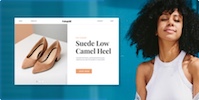 Create your own unique website with customizable templates.